2016-2017 Season
CURRENTLY PLAYING
[title of show]
[MainStage]
8pm April 28,29, May 5,6,12,13
7pm May 3,4,10,11
Music and Lyrics by Jeff Bowen
Book by Hunter Bell
A hilarious musical about a musical by people who write musicals! Struggling writers Jeff and Hunter are desperate to get a piece into the New York Musical Theatre Festival, which is just three weeks away. With the help of friends, the duo embarks on an artistic and humorous journey of creative self-expression.
Recommended for mature audiences only
Tickets $25
COMING SOON
The Pirates of Penzance, Jr.
[MainStage]
6pm May 26,27,31, June 1,2,3,7,8,9,10,14,15,16,17
2pm June 3*,10,17*
Book by Sir William Schwenck Gilbert
Music by Sir Arthur Seymour Sullivan
Lyrics by Sir William Schwenck Gilbert
Set sail with Gilbert and Sullivan's classic comedy boasting one of the most famous patter songs in musical theatre history! This swashbuckling musical journey is a hilarious farce of sentimental pirates, bumbling policemen, dim-witted young lovers, dewy-eyed daughters and an eccentric Major-General, all morally bound to the oft-ridiculous dictates of honor and duty.
Presented by the Roxy Regional School of the Arts
* "Pirate Party!" at 12:30pm (Tickets $40)
Produced in part by Melinda Kelly-Major
Tickets $15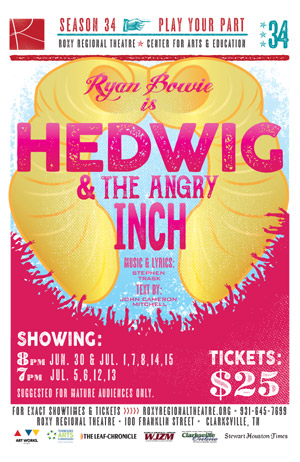 Hedwig and the Angry Inch
[MainStage]
8pm June 30, July 1,7,8,14,15
7pm July 5,6,12,13
Text by John Cameron Mitchell
Music and Lyrics by Stephen Trask
Ryan Bowie is back as "internationally ignored song stylist" Hedwig Schmidt, a fourth-wall smashing East German rock 'n' roll diva! This groundbreaking award-winning musical is rocking, funny, touching and ultimately inspiring to anyone who has felt life gave them an inch when they deserved a mile.
Recommended for mature audiences only
Produced in part by Larry & Barbara Goolsby and Melinda Kelly-Major
Tickets $25
Steel Magnolias
[MainStage]
8pm July 28,29*, August 4,5,11,12,18,19
7pm August 2,3,9,10,16,17
2pm August 5,19
By Robert Harling
What began as Robert Harling's beautiful, cathartic memoir about his sister has become a widely beloved play and popular film about the hope, healing — and even humor — possible in the midst of heartache. Laugh, cry and fall in love all over again with these iconic characters who are "as delicate as magnolias but as tough as steel."
* Annual Summer Cookout at 6:30pm (Tickets $40/$25)
Produced in part by Hugh & Joy Hatcher
Tickets $20 (adults) and $15 (13 and under)