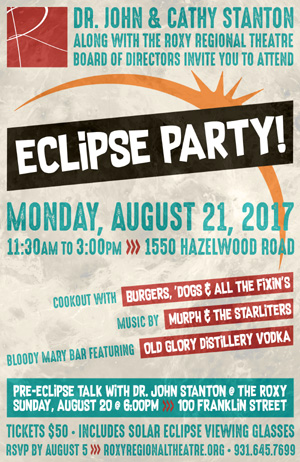 "Eclipse Party!"
[1550 Hazelwood Road]
11:30am August 21
Experience a once-in-a-lifetime celestial event by joining us at the home of Dr. John and Cathy Stanton for our total solar eclipse viewing party!
Burgers and 'dogs will be on the grill, accompanied by sides and all the fixin's. Old Glory Distillery Vodka will be flowing at our Cosmo Bar, and Murph & The Starliters will provide musical entertainment. Solar eclipse viewing glasses included. Telescopes and binoculars with solar filters will also be available.
Includes pre-eclipse talk with Dr. John Stanton at the Roxy Regional Theatre on Sunday, August 20, at 6:00pm.
Please RSVP by August 5.
Tickets $50